Russ Cooper of Ideal Electric!!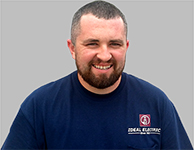 Russ Cooper has been with Ideal Electric for over 10 years.
He was a apprentice, then got his journeymen's license and became a crew leader.
He has since received his master's license and is now a project manager.
Well liked by clients, Russ understands that getting the job done requires partnering with our clients and clearly communicating during all aspects of the project.